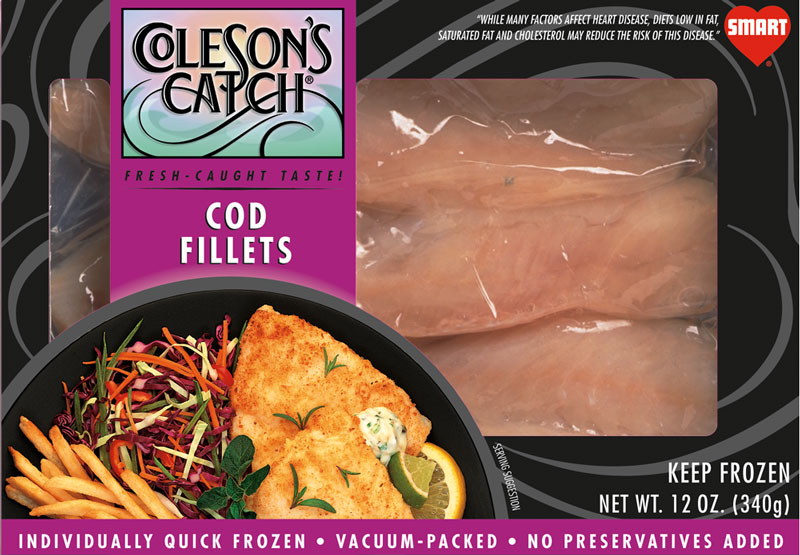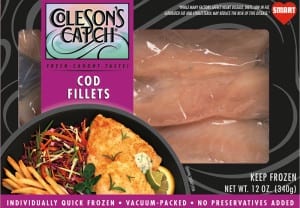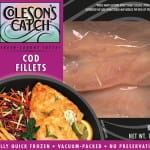 Print
Cod and Shrimp with Dumplings
Ingredients
12 oz

pkg

Coleson's Catch Cod

cut in 1-inch squares 

18

pcs

Coleson's Catch 26/30 EZ Peel Shrimp

peeled

2/3

c

Potato

diced, sweet potato would be good

1/2

c

Onion

diced

1/2

c

Celery

diced

1/2

c

Carrot

diced

1/2

c

Frozen Peas

3

c

Chicken Broth

1

tube Frozen Biscuits

1

Tbsp

Butter
Instructions
In a medium-large sauce pan, melt the butter and cook the onion until translucent.

Add chicken broth and bring to a boil.

Add the vegetables and simmer until al dente.

Add the cod and shrimp, stir, and put in an oblong glass baking dish.

Top with the biscuits - I would use 8 – and bake according to biscuit instructions.
Cod and Shrimp with Dumplings Recipe Description
Prepare to embark on a culinary adventure with our delightful recipe for Cod and Shrimp with Dumplings. This exceptional dish combines the delicate flavors of cod and shrimp with tender dumplings, creating a symphony of tastes and textures that will tantalize your taste buds.
As you take your first bite, you'll be captivated by the tender and flaky nature of the cod and the succulent sweetness of the shrimp. Each mouthful offers a delightful seafood medley that is both light and satisfying.
Accompanying the seafood is a delightful surprise—soft and pillowy dumplings. These dumplings are carefully crafted from a combination of flour, eggs, and seasonings. They add a comforting and substantial element to the dish, complementing the delicate flavors of the cod and shrimp.
To elevate the flavors even further, we suggest serving the Cod and Shrimp with Dumplings in a flavorful broth. The broth, infused with aromatic ingredients such as garlic, ginger, and scallions, brings a depth of flavor that enhances every bite. The combination of seafood, dumplings, and fragrant broth creates a harmonious balance of flavors that will leave you craving more.
To complete this culinary masterpiece, we recommend garnishing the dish with fresh herbs like cilantro or parsley and a squeeze of lime for a burst of freshness. These additions add brightness and bring out the vibrant flavors of the seafood and dumplings.
Whether you're seeking a comforting and satisfying meal or looking to impress your guests, our Cod and Shrimp with Dumplings recipe is sure to delight. Prepare to be captivated by the delicate flavors of the cod and shrimp, the comforting nature of the dumplings, and the aromatic essence of the broth. Embark on a culinary journey that celebrates the beauty of seafood and dumplings, and savor a truly memorable dining experience.
Please follow and like us: