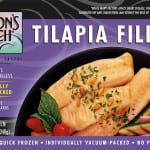 Print
Cornmeal Crusted Tilapia with Spicy Tomato Sauce
Ingredients
12 oz

pkg

Coleson's Catch Tilapia Fillets

1/4

c.

Milk

1/4

c.

corn meal

Flour

1/4

tsp.

Cumin

1/4

tsp.

Chili Powder

1/4

tsp.

Garlic Salt

1

c.

Tomatoes

diced

1/2

c.

Yellow Onion

diced

1

tsp.

garlic

chopped

1/2

c.

Chicken Stock

Canola oil

Red Chilies

crushed 

2

tsp.

Butter

Salt and Pepper
Instructions
Soak the tilapia fillets in milk for at least an hour. 

Sauté onion in canola oil until translucent. 

Add the garlic and cook for a bit but don't brown. 

Add the tomatoes and broth. 

Add approximately 1/4 tsp of each spice and simmer until the liquid is almost gone.

Add butter. When melted, adjust seasoning. Set aside.

Mix a bit of flour into the corn meal then season with the spices.

Take the wet Tilapia and press into the dry mixture, coating it well. Sauté until golden.

Top with the spicy tomato sauce and serve with a side salad.
Please follow and like us: