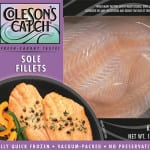 Print
Seafood Terrine
Ingredients
12 oz

Coleson's Catch Sole Fillets

3

egg whites

3

Slices White Bread

crusts removed, diced

1/2 -3/4

c.

Heavy Cream

2

Tbsp.

Green Peppercorns

1/2

c.

Bay Shrimp meat

cooked 1/2 tsp. Salt 1/2 tsp. White Pepper

Tarragon Sauce:

1/2

c.

Mayonnaise

1/2

tsp.

Dried Tarragon

1 tsp. if fresh

2

tsp.

Lemon Juice

2

tsp.

Shallots

chopped

1/4

tsp.

Salt and Pepper
Instructions
In a food processor, puree the egg white and bread until smooth. It should be a thick liquid; adjust depending on the size of the bread slices and eggs. 

Add the fish, salt, pepper, and cream.  (This may need to be done in batches depending on the size of the processor.)

The mixture should be fluffy and mousse-like in texture.  Scrape into a large bowl. 

Fold in the peppercorns and bay shrimp.  Pour into a small glass loaf pan lined with wax paper. 

Covered with foil and bake in a water bath at 350° for approximately 40 minutes, checking it with an instant-read thermometer (it should read 140°). 

After baking, place a weight (a brick or cans of peaches) on top of the terrine and chill. 

Mix all ingredients of the tarragon sauce in a bowl and chill.
Notes
Remove terrine from pan and slice. Place on a plate in a fan pattern and spread the tarragon sauce at the tips. Additional Comments: Food processor required.
Please follow and like us: