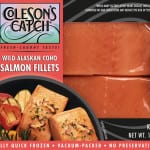 Print
Croquettes
Ingredients
2

c

cold mashed potatoes

1

c

cooked Coleson's Catch salmon flaked

(leftovers are great)

2

Tbsp

chopped fresh dill

1/4

c

chopped red onion

1

tsp

lemon juice

1

c

Panko bread crumbs

Japanese bread crumbs
Instructions
Toss the flaked salmon with the dill, onion and lemon.

Put the mashed potatoes in a bowl and with a spoon stir them until soft and smooth.

Fold in the salmon and shape into patties aproximately 1/2 inch thick and 3 inches wide.

Press them into the panko and chill.

To cook, sauté in canola oil until warmed through and golden brown.

Can be served with tartar sauce or a warm white wine butter sauce.
Notes
A perfect use for left-over mashed potatoes. Croquettes typically have a base of mashed potatoes and then are enhanced with seasoning and a protein, shaped and rolled in breadcrumbs, then deep-fried. Common shapes are "log shape" (1 inch wide, 3 inches long) and pear shaped. I have chosen to use the same mixture but to shape them into "patties." This way I don't have to deep-fry them but can sauté them. They can be used as an appetizer or an entrée.
Please follow and like us: